Contact
· Gasbanor (Schweiz) GmbH, Micafluid
· Suedstrasse 1
· CH-8952 Schlieren
· Fon: +41 44 739 44 66
· Fax: +41 44 739 44 68
Subsidiary of:

Micafluid AG – Oil Purification Systems
Certifications:
Certified acc. to
EC 305/2008
About us
Gasbanor (Switzerland) GmbH, Micafluid is proud to continue the long engineering tradition of MICAFIL AG (Switzerland) for SF6-gas servicing machinery dating back to the 1970s. Since the first SF6-recovery system concepts developed by MICAFIL, considerable progress has been made in this field.
The SF6-recovery units and SF6-dryer are consistently evaluated and have been significantly optimized with relation to its price/performance ratio.
In the course of our development work, the new versatile, compact and robust machine design was implemented again under the umbrella of MICAFLUID AG in a new product range of mobile SF6-gas recovery & reclaim systems.
Our scope of supply includes: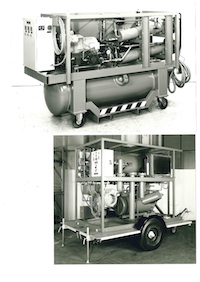 SF6-gas recovery and treatment plants
SF6-gas refilling & evacuation devices
Measuring devices
Working protections kit for decomposed gas
Gas leakage detectors
Protection set for decomposed SF6

-

gas
Instruments for measuring of pressure & vacuum, percentage and humidity
Vacuum pumps
Spare parts
With nearly 40 years of experience on SF6-gas and gas insulated switchgear, we have the required expertise to offer equipment for operation and maintenance, but also consultancy for electrical components, accessories and insulating materials in generation, transmission and distribution.
Our assortment will be extended continuously. For consultancy about handling of SF6-gas, or assistance for equipment please contact us.
---